For Patients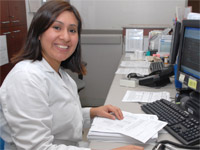 This guide will answer many of the questions you may have regarding your initial visit to our Regional Comprehensive Hemophilia Diagnostic and Treatment Center at Weill-Cornell Medical Center/NewYork-Presbyterian Hospital.
Knowing as much as possible beforehand can help facilitate the flow of your visit. Use this guide to familiarize yourself with our Center before your scheduled appointment or procedure. You will find directions and parking information as well as downloadable forms and instructions on what you will need to bring with you to your visit.
General Contact Information
For information, Hemophilia Treatment Center: (212) 746-3418
To Schedule An Appointment: (212) 746-3421
After hours Emergency: (212) 746-3400
Outpatient Services/Office Visits
The Regional Comprehensive Hemophilia Diagnostic & Treatment Center is a component of the Human and Health Services (HHS) Region II, a network of hemophilia treatment centers (HTC's) of excellence in New York, New Jersey, Puerto Rico and the Virgin Islands. We are internationally known as a training center for doctors from abroad as well as for our local fellows and residents. Our presence is known globally for initiating and collaborating with other HTC's in active research related to many of the complications of hemophilia, which has made us a forerunner in comprehensive care.
Office Hours
Monday: 8:00 AM to 4:00 PM
Tuesday: 8:00 AM to 4:00 PM
Wednesday: 8:00 AM to 4:00 PM
Thursday: 8:00 AM to 4:00 PM
Friday: 8:00 AM to 4:00 PM
---
CONTACT US
Comprehensive Center for Hemophilia and Coagulation Disorders
525 East 68th Street, Payson 695
New York, NY 10065
212-746-3421 (9am-5pm)
212-746-3400 (Pediatric After Hours) 646-962-2065 (Adult After Hours)
Email: hemophiliacare@med.cornell.edu
RELATED LINKS
External sites are not endorsed by NewYork-Presbyterian
Top of page